A Presentation of the Columbia State Historic Park
with the support of Columbia's Volunteers & Docents!


The COLUMBIA FANDANGO HOUSE.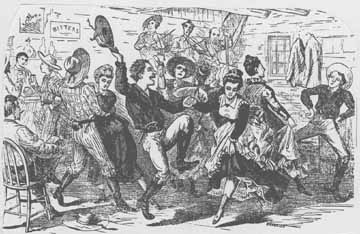 A Place to Learn Period Dancing!




DANCE CALENDAR


Dance schedule will include a Dance Practice and Scheduled Theme Dances.
All CFH practice dances are no charge. Donations accepted!
We try to start by 7:00PM and end by 11:00PM.
---
2013


Dates and dance schedules are known to change with little notice.


Columbia House Fandango's Dances at the Angelo Hall,
Compliments of a Miscreant,

Has Been CANCELLED!!

What Was a Fandango?
from "History of Tuolumne County 1882"
"Born in the mystic past, so far back, perhaps, that the time and place have been forgotten...perhaps even instituted in the Garden of Eden, suggested by the thought that the clothing of that date was, perhaps, aptly suited to the rise of the Fandango...found its chosen habitat, at last, in Spain. Crossing thence to Mexico with the gallant Cortez and his devoted band of heroic thieves and murderers...it thrived apace among aristocratic hidalgos and lowly peons.
"Taking on importance from the reckless prodigal support of the burly, red-shirted American miner...furnishing an amusement not out of keeping with the men of that time. Its votaries were not alone the brutal and the ignorant, for many a son of pious training...were found pursuing the lascivious pastime through the merry mazes of the dance, while even the cloth itself - disclaimed not the seductive blandishments of dark-hued syrens - whose many twinkling feet and far-extending and lavishly displayed charms lent enchantment to the views of men in whom the hot blood of youth beat, untempered by any very severe asceticism.
"Spreading wide their portals for the motley train, the Fandango house flourished, the arbiter of pleasure and of play....tinkling guitar ...kept time to the song from Italy, the step from France. The midnight orgy, the mazy dance, the smile of beauty and the flush of strong drink.... gamesters all...passed through the fleeting hours of night."

Welcome to Columbia Fandango House page! In 1851, Hubert Brady noted that the "original" Columbia Fandango House was considered the Wildest of the various fandango houses around the Sonora area. We may not be the wildest place in Tuolumne County today, but we have a wonderful social "crush" and guarantee a delightful evening of period dance.
We are 3+ miles north of Sonora in the Sierra Mountains of California. Our dances are always for beginners, as we try to teach a new dance at every event. Our balls are Columbia terpsichorean themes; we allow the public to dance in their street clothes if costumes are not their passion.
Please come and join our small group of friendly folk and step back into the goldrush, where dancing and faro cards were just part of the nightly entertainment.

More information?
COLUMBIA FANDANGO HOUSE
22725 Main Street
Columbia California 95310-9401
209-533-1852 (ask for Floyd or Danette.)
Email:




or Call State Park Office 209-588-9128
---