the Grand & Obscure

COLUMBIA DAY CELEBRATION.
Historic State Park of Columbia, California.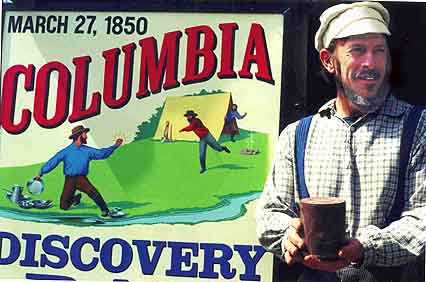 March 27th, Each Year

Presented by a few of Columbia's Costumed Characters
A Birthday Celebration of the day Johnny Walker of the famed Hildreth Party discovered gold
& brought life to the area, which started the town of Columbia!



PROGRAM
Celebration usually starts at 10ish and ends at 4ish - (Columbia Time)
You could join in and
Sing Happy Birthday.

You could make
music with a gazoo or a mess of Gews Harps.
as long as you bring Your own!

Ask a local and get one of the
18 Columbia Discovery Versions.
and you are welcome to bring Your own!

Then go over and
View the placque.
which is now firmly buried in Discovery Park area. (just to the right of Diggins camp site.)

Multiple special venues will be staffed by docents in town.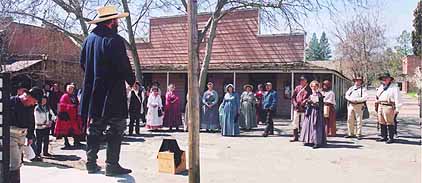 The 2003 dedication of placque.


DON'T MISS THIS CELEBRATION!


More information?
Call State Park Office 209-588-9128 or
Send an SASE to 11255 Jackson Street, Columbia, CA 95310 with questions.
---
All information and schedules posted may be changed at any time!
The current listing may not be absolutely correct.



This page is created for the benefit of the public by
Floyd D. P. Øydegaard. Return to Chamber Event Page